Harvest, decorate, trade and fish on your computer and mobile device with the FarmVille remake. FarmVille 2 (FarmVille 2: Country Escape on mobile devices) revitalises the FarmVille name with a fresh take on the farming management genre. With new graphics, exciting activities, the ability to play offline and more co-operative opportunities FarmVille 2 and the mobile counterpart will get you hooked once more on farming the land as you compete and cooperate with your friends list.
FarmVille 2 builds on the gameplay established by the original popular FarmVille game which has now become the benchmark for the farming simulation genre due to its rapid rise to Facebook fame and millions of players. Fans of the original will feel right at home with the structure of the game and newcomers won't feel out of place either with the simple mechanics that are easy to learn and friendly to all skill levels
Farmers from the original will recognise a few key differences between the two, most notably is the enhanced graphics that really help bring your personalised farm to life. Form your buildings, to your animals and crops all of them will be presented in beautiful 3D vibrant graphics.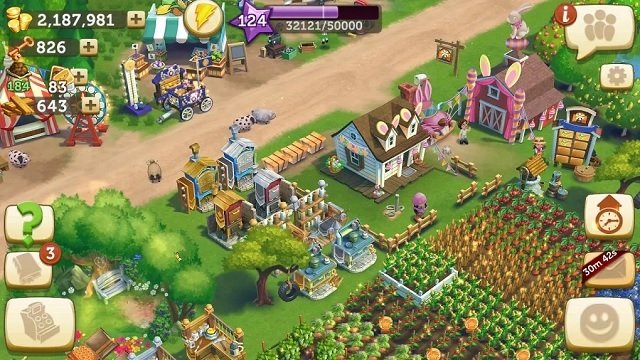 You'll also find a better crop growing cycle as well in FarmVille 2 that no longer requires players to continually plow land speeding up the process and removing some unnecessary clicks. To replace plowing players will have to use the resource of water which slowly regenerates over time (alternatively players can send water from their mobile farm to their computer one to create some linkage between the two). However, given the Flash shutdown in recent years this is significantly harder and requires players install the downloadable FarmVille 2 launcher (Windows and Mac).
The final noticeable change is the shift to an inventory system for your crops instead of having them sold instantly for gold upon harvesting. This opens up the opportunity for players to be able to fill orders, use it for animal food or turn them into crafted goods giving you more farm management options overall. Players will also rejoice to hear that the mobile version of FarmVille 2 supports offline play, letting you get your farm fix wherever you might be. Players using this feature though will have to login occasionally to have their progress saved.
With so many improvements to the original it is well worth your time if you found yourself hooked on the first FarmVille adventure. It's still got all the shortcomings of the genre though so it isn't going to convert gamers who aren't a fan of the farming simulation on offer.
Summary:
A whole new FarmVille experience that builds on the original mechanics with fresh gameplay.
New colourful 3D graphics bring your farm, animals and crops to vibrant life.
More depth with the ability to save your harvest, make resource decisions and even go fishing.
Available on Facebook or try the mobile optimised Country Escape version for iOS and Android.
Option to play offline to game anywhere and go online later to save your progress.
Links:
Videos:
Review Platform: iOS