Habbo has a large user base and offers a visual social networking experience that you can access within your browser. Create your own unique avatar now and enter the Habbo Hotel to meet new people and potentially make lifelong friends.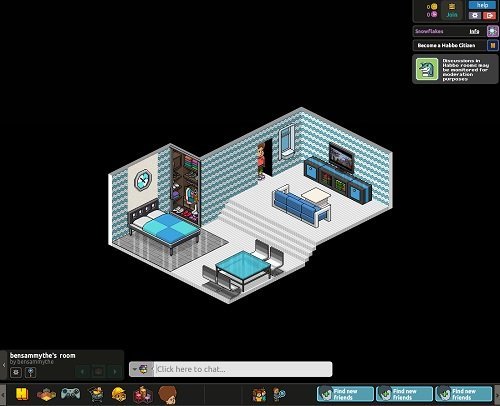 Habbo is over a decade old launching in 2000 which makes it one of the longest lasting games in the genre. The game focuses on providing a quality experience with chat, rooms, furniture, games and plenty of other community orientated features.
After you setup your account on Habbo you can customise your own avatar with an almost overwhelming number of options. After you've created your ideal personality you can then access the Habbo Hotel which is where the majority of your time in Habbo is spent.
The Habbo Hotel is separated into various rooms which are public meeting places for users to hang out and play games. Habbo rooms all have their own unique identity and include restaurants, dance clubs and other popular social locations. Originally Habbo had hundreds of rooms but these have significantly been reduced since 2011 to switch its focus to user created rooms.
These user created rooms (or guest rooms) are highly customisable with furniture (known as Furni), floor patterns, room layout and wallpaper. Room owners can then open up access to this room or keep it private to invite only their friends. It is common for room owners to also host their own games and reward members that participate.
Despite the genre of social websites growing rapidly over the past few decades Habbo still stands strong in comparison with its great list of features and large user base. If you prefer to focus on chatting and making friends then Habbo is the social website for you, although if you are looking for a social experience with a good amount of games you will want to look elsewhere.
Summary:
Large hotel to explore.
Lots of customisation.
Unique and fun pixel characters.
Create your own guest rooms and fill them with Furni.
Earn badges and achievements as you play.
Links:
Videos:
Review Platform: iOS