Create your own Hollywood Story on your iOS or Android device as you shoot movies, build a career, date, earn fans and most importantly wear the best fashion on a red carpet. If you've ever dreamed of going from zero to star then now is the time to make your dream come on your mobile phone.
Starting out in NYC and then venturing to Queens and several other American based locations before reaching your final Hollywood destination players will experience a strong story driven adventure. Designed to take you from goal to goal with increasing complexity and challenges Hollywood Story ensures players are always clear on what their current objective is and where their focus should be. This clear structure is one of the strengths that Hollywood Story offers in comparison to other mobile story titles that make it difficult to determine what your direction is.
At the same time though Hollywood Story gives players plenty of freedom in how they go about their day to day lives as an upcoming star which makes it feel like it's your own customisable lifestyle. This can involve earning cash from working in the restaurant to touching up on your skills or working out in the gym that all contribute to your career.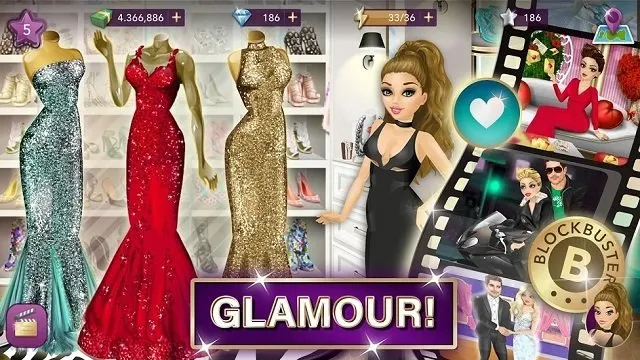 With this ongoing career progress these tasks aren't mindless in Hollywood Story with each activity improving your character stats or giving you additional funds instead. These extra funds can then be spent on upgrading your apartment, hair style or wardrobe to improve your visual presentation.
All of these game areas culminate into a single purpose, the making of movies and in turn the development of your movie star career. In order to to be cast for these roles players will need to meet stat requirements and have found certain collectibles during their gameplay from tasks. Once cast players will need to perform actions in various scenes as dictated by the director with extra points for following the correct approach (with even more points for dress and style) and fast tracking your career progress.
All of these points are taken into account in the final movie score which determines how many tickets are sold and the ultimate revenue you'll earn (much more than shifts at the restaurant). In addition to large injections of cold hard cash you'll earn fans which will help you rise through the superstar ratings which help track your stardom progress.
With so many elements built into the game and a huge amount of story content to slowly progress through Hollywood Story is a great iOS and Android Hollywood based adventure.
Summary:
Create your own movies, sell tickets and gain fans on the road to a Hollywood star.
Upgrade your wardrobe, apartment and your superstar to create your own star style.
Rise the movie ranks by producing great movies across various genres..
Explore a large US based game world with several cities to visit along the way.
Play for free on iOS and Android devices.
Links:
Videos:
Review Platform: iOS