Opting to offer futuristic warfare Ironsight has come from the East to North American and European players in 2018. Set in a universe only a few years ahead of our own (2025) where two factions fight resources you'll join the fight with an arsenal of 100+ weapons across futuristic environments. Including all the features of most paid FPS titles with a free price tag Ironsight quickly captured a solid audience post release and continues to maintain a healthy playerbase.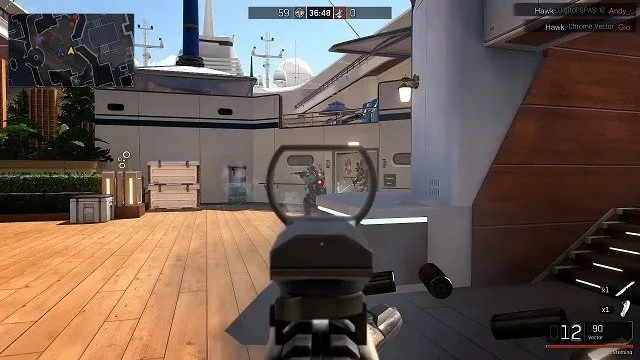 Praised by many in the FPS community as a free to play alternative to the likes of Call of Duty with a strong array of combat zones, different playstyles through customisable loadouts and strong graphics for a free to play title. The most notable of which is the over 100 weapons and accessories available which do well at remaining balanced despite the expansive weapon choices. While there are a few overpowered weapons a tactical and experienced Ironsight player can still utilise the wealth of other options built into the game. These 100+ items range from sights, tactical equipment, secondary weapons and much more to create a unique loadout.
With the North Atlantic Forces (NAF) and the Energy Development Enterprise Network (EDEN) hot on the heels of each other combat is fast paced and fierce in every online match. All the usual array of modes are available although the maps are more limiting and fairly generic in design when compared to the triple A shooters also available. For the free price tag though Ironsight is more than serviceable in this department and something that is likely to receive attention over time.
Background of the game aside shooters are much more about the gameplay (and gunplay) that they bring to the table than the basic story, mode and map framework. In this regards Ironsight has all the basic building blocks required for an addicting and fun free to play shooter. This includes having guns that feel impactful in combat, hits registering appropriately based on the body part you shoot at and Ironsight's own little twist on strategy through the drone system.
These drones broadly fall under defensive, offensive and tactical categories with options to spy on enemies, jam their UAV tactics or assist you with dealing damage to enemies hiding around corners. This fits perfectly into the modern warfare feel where you are fighting alongside technology and helps to separate Ironsight from many other titles in the free to play arena.
Other elements of quality that Ironsight holds over it's free to play rivals is the fantastic game engine which is custom to provide an impressive graphical experience and delivers this with fairly stable FPS as well. The net code unfortunately does not hold up quite as well though at reasonable ping levels that can cause some frustration when your bullets simply don't register or match up to what you see on the screen.
The next layer of uniqueness beyond your usual free to play title is the sheer amount of visual customisation that you can equip to your soldier through the likes of skins, helmets, clothing and even gloves to ensure you feel like a unique hero in each FPS battle. The majority of these are available for earned in game currency or the premium AP currency and unfortunately do not come cheap but are at least purely optional.
Summary:
Free to play high quality shooter with 100+ weapons.
Customise your own loadout for battle including a large range of visual customisation.
Fight across a range of varied maps and game modes.
Impressive engine for graphics and visual performance.
Long standing game in the East now transported to the West.
Links:
Videos:
Review Platform: PC