Offering a game with countless stories just waiting to be experienced My Story: Choose Your Own Path sits amongst other iOS and Android games within the genre offering players the ability to make choices, change the story and watch the final outcomes.
Opting not to limit itself to a single genre My Story: Choose Your Own Path goes above and beyond the call of the genre with stories that fall within drama, romance, crime and comedy and everything in between ensuring all fans of the genre are catered for.
Not wasting anytime players will be able to pick their first adventure from the romance and drama categories which also serves as the tutorial for My Story: Choose Your Own Path by demonstrating the sort of options players can expect and how to make such decisions.
One such mechanic is the chapter system that provides overall structure to your story and gives you a sense of key decisions. All stories are split into groups of chapters which can range from as low as 8 all the way up to 35 for some of the larger stories. In due time players will have the wealth of the My Story: Choose Your Own Path story library to choose from.
Within each story players will find fairly strong dialogue and great character animations that help each scene feel like a realistic story. As one would expect there are some higher quality stories in the line up and some that are on the weaker side but this is by no means a unique aspect of My Story: Choose Your Own Path when compared to the rest of the visual novel genre.
Regardless of overall quality each story is not short on choices for players to make with these small choices often leading up to a larger decision that serves as story altering. When compared directly to other games in the niche the number of decisions to be made in My Story: Choose Your Own Path is slightly higher and also pairs this nicely with the strong dialogue responses from NPCs that feel realistic and meaningful to the respective stories.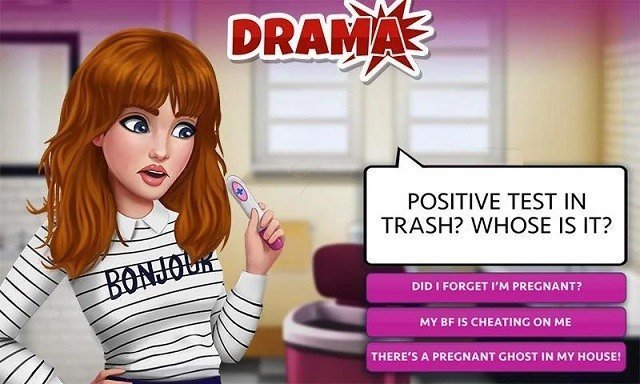 Unfortunately, some of the more interesting story decisions are pushed beyond a premium currency of diamonds so most players will have limited ability to truly explore all the decisions that My Story: Choose Your Own Path has to offer. A ticket based currency system also limits the amount of playtime you can enjoy and while you can unlock a small amount of additional tickets by trying the developer's other games this does little to truly address the root cause of the game design.
Summary:
Large collection of stories split across romance, drama, crime and comedy genres to experience.
Make small and large decisions that impact the story throughout dozens of story chapters.
Enjoy animated visuals and scenes to bring the story to life in your hand.
Vast range of sub-genres and settings ensure each story is different to others in the same category.
Free to play for Android and iOS devices.
Links:
Videos:
Review Platform: iOS