Based on the Sims 2 engine The Sims Castaway Stories provides an accessible title optimised for laptops that provide a similar but trimmed down adventure of the core Sims franchise. Offering players endless gameplay potential with a free play sandbox mode a linear storyline option is also available that guides you through a series of structured events. Serving as the the third game in the laptop optimised series of games known as The Sims Stories franchise The Sims Castaway Stories sends players to a castaway island to help their survivors survive and develop relationships.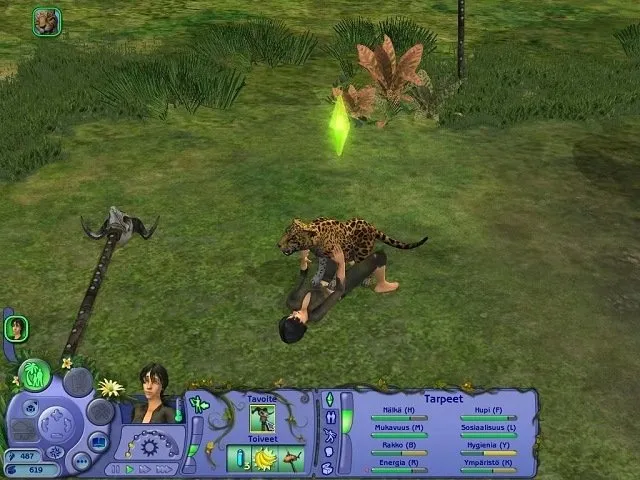 Accessing the two distinct game modes of The Sims Castaway Stories is done through the two starting neighbourhood modes available of Shipwrecked and Single and Wanmami Island. For those new to the Sims franchise a tutorial also provides a handful of exercises to give you the basic tools to survive in the core modes.
Shipwrecked and Single is the story mode where players follow along several scenarios in a linear fashion with options to play as the premade characters of David Bennett or Jessica Knight or make an entirely new customised Sim allowing players to recreate themselves in the story. Boarding the cruise ship that specialises in special cruises for singles known as the Solomon Queen players will find themselves quickly shipwrecked on an island where survival and relationships are top of mind. On this remote island you'll encounter wild animals in the dense jungle settings, travel to the top of a volcanic crater and in time find other shipwreck survivors and island natives.
Alternatively players can start their adventure on Wanmami island which serves as the open ended gameplay option that features a similar island setting but gives you more freedom in how you create your family. This island also comes with significantly less survival elements with the island already being home to a number of local campers or lost travellers.
Since both of these settings take place on island environments with limited resources everything that the players build must be made with materials collected around the island represented by coloured rocks. These are obtained from chopping wood, collecting metal parts washed ashore from aeroplanes, gathering bones or smashing rocks across the island, going to work or selling unwanted objects. Food is gathered in similar ways with your job, fruit gathering or fishing boosting your stocks that allow you to cook a variety of mode and maintain your food bar for survival.
With the traditional buy mode renamed to barter mode you'll find island themed objects across survival, seating, surfaces, beds, mirrors, lighting, cooking, plumbing, storage, nature, decorations and fun. While you won't be building large swimming pools in your backyard in The Sims Castaway Stories you'll still have a wealth of categories to customise your surroundings.
Other notable features of The Sims Castaway Stories include three themed jobs of hunter, gatherer and crafter alongside a weather and animal system to give you the sense of really being stuck on a castaway or remote island environment.
Summary:
A Sims-lite spin off franchise available for Windows and Mac.
Explore two islands with a story and sandbox mode.
Collect resources and food from the island to survive and build.
Take on a job as hunter, gatherer or crafter to help your growing neighbourhood tribe of characters.
Weather and animal mechanics help to create a realistic island setting.
Links:
Videos:
Review Platform: PC