Sleeping Dogs has players taking on the role of Wei Shen an undercover cop and martial artist specialist that decides to tackle the Triad organisation across Hong Kong. Released in August 2012 by Square Enix Sleeping Dogs joins the ranks of other high profile open world action adventures with a crime theme.
With a large Hong Kong setting as your backdrop players are free to design their own story as you freely roam the city taking part in fights, driving, crime and anti-criminal activities. Split into four regions you'll progress through all of these as Wei Shen joints the Hong Kong Police Force in order to bring down the infamous Triad organisation known as the Sun on Yee from the inside through infiltration. The result is an interesting gameplay blend where players commit enough crimes to be noticed by the criminal underworld and progress their rank alongside completing their police duties.
Completing this story across the regions is mostly up to the player with side activities and quests filling in your time as you explore what the world has to offer from a third person perspective. While these side activities can easily distract players from the main storyline they do help players progress in other ways while also giving the game world a great sense of realism. Activities include the likes of gambling, fighting, car jacking and even karaoke to create a unique mixture of criminal and civilian activities.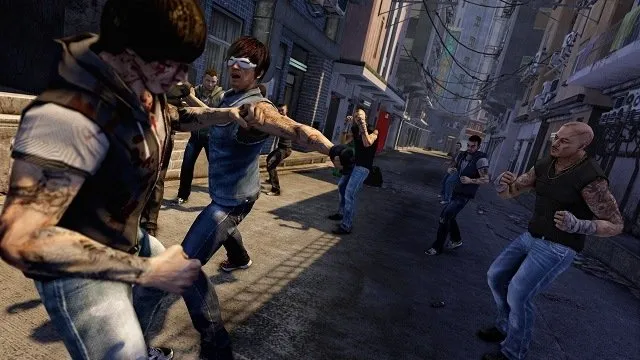 Another notable unique aspect of Sleeping Dogs is that combat has a large focus on martial arts and hand-to-hand combat. Borrowing for modern day action adventure titles you'll grapple and counter your opponent while you combo attack moves together as you shift between opponents. While melee and firearm weapons are still available they play a much lower role compared to competing video games in this space which combined with the Hong Kong setting sets Sleeping Dogs apart. When you do use these weapon types though players can make use of the robust cover system that lets players move between cover and target enemies with ease and ensures third person combat on consoles particularly is user friendly.
Fans of the role playing genre will also enjoy the RPG elements that are incorporated into the core of Sleeping Dogs and give all of your your actions purpose. Players gain proficiency in a number of skills as they advance through the game while also earning experience in three different forms; Triad XP, Face XP and Police XP based on the different actions you take. Triad XP is of course linked to your criminal actions with melee combat and violence rewarding XP based on complexity while Face XP is in stark contrast given its civilian and cosmetic focused.
Each of these allows you to improve certain elements of your character which results in potentially different experiences between players as you have access to different clothing, abilities and skills that may impact how other characters react to you or how you approach a particular situation. This is particular critical in how the police and civilians respond to players which is also influenced by your recent actions much like the Grand Theft Auto franchise.
Summary:
Explore Hong Kong from a third person perspective as you seek to infiltrate the Triads on behalf of the police force.
Gain skills and experience to unlock content across Triad, Face and Police based on your actions.
Drive a variety of vehicles across the streets of Hong Kong and enter races.
Fight in fast paced hand to hand combat or use a limited number of weapons to face off against rival gangs.
Originally released in 2012 with a number of DLC packs expanding the adventure and combined into the Definitive Edition.
Links:
Videos:
Review Platform: PC