Lead your stone age tribe in Stonies a free to play title available on a range of platforms that seeks to take you back to the dawn of human history as you face associated challenges of survival of the historic era. Available on either iOS, Android, browser or through Upjers Home (Windows/Linux) players of all preferences.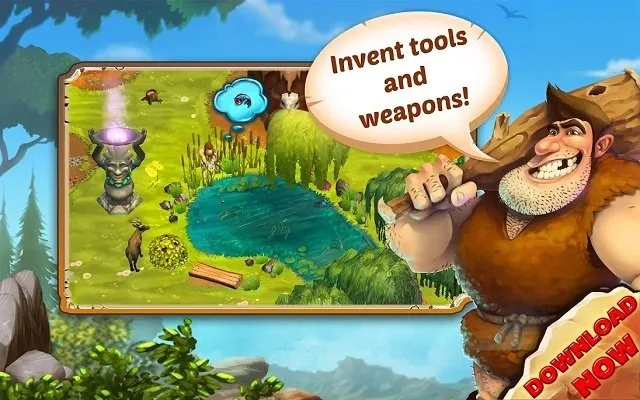 Your Stonies adventure begins as any prehistoric journey does as you take stock of your current resources and small settlement in a deadly environment. With a low supply of food you'll pick mushrooms and berries with the help of your first little human referred to as Stonie. With their belly full you'll be able to begin your first construction workshop by collecting stone from the area which in turn will unlock stone tools to improve your resource gathering abilities. It's this cycle of acquiring resources, improving your technology and in time building new structures that is the heart of Stonies which gives it familiar gameplay to other time management titles in the genre.
Collecting these resources is easily enough and can be collected with a simple tap of your finger or mouse and occasionally will require multiple for larger collection points. While manual intervention is useful early on as your Stonies settlement grows you'll want to rely more on the automatic acquiring of resources that Stonies offers when you assign a human to that particular resource node. Stonies require the appropriate amount of food to help you collect these resources but resource nodes respawn regularly that this is not an issue especially when combined with the expanding borders of your tribe that unlock greater numbers.
Once  resources have been collected they'll appear in your inventory for spending on buildings, farms or animal pens which each have varying resource costs or require you to be a certain era first. These eras serve as levels to mark your progression throughout the Stonies world for easy comparison to friends and provide your pathway to unlocking new structures.
Unlike other games in the genre that generally base this progression solely on resources or experience acquired advancing through an era in Stonies requires certain prerequisites to be completed. Given the stone age inspired setting this helps to build that sense of real advancement as a tribe as you progress from store huts to mud and start working with the likes of leather and ceramics just like the human race did over tens of thousands of years.
Overall Stonies is your basic farm and resource simulation title but the fun setting combined with the actual sense of progress make it worth investing your time into. It also provides an element of active gameplay with resource collection albeit this is capped to the size of your tribes area of influence.
Summary:
Advance your tribe through the stone age as you help them survive the harsh environment.
Harvest resources with your finger or command your Stonie instead to bring it back to your tribe.
Build farms and raise animals alongside foraging the environment which provide plenty of sources to acquire key resources.
Equip your Stonies with the tools they need with crafted items from various structures.
Free for browser, iOS, Android and Upjers Home (Windows and Linux).
Links:
Videos:
Review Platform: PC