The Elder Scrolls Online (ESO) brings the popular role playing series to the MMO environment with an adventure that sets out to create the ultimate Elder Scrolls adventure and fills it with other online adventurers like yourself. The greatest appeal to the Elder Scrolls Online is without a doubt to the long time fans of the franchise who will appreciate the expanded world before them although in order to break through into the competitive MMO market a number of decisions have been made that ensures newcomers are equally welcome.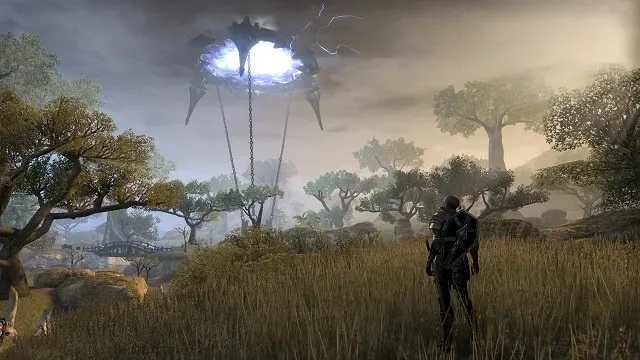 Launching in early 2014 the Elder Scrolls Online allows for a high quality action role playing experience with the addition of multiplayer gameplay and continues to be developed with constant patches and new content for paying subscribers which is further supported with premium currency designed to give players choice and flexibility in how they support the game and the aforementioned ongoing development which is a key pillar of any MMO experience. As of 2015 ESO is a buy to play experience with the subscription providing the optional benefits for the committed MMO player.
The base of this experience in Elder Scrolls Online is set on the continent of Tamriel with a timeline that is in fact hundreds of years before the stories in the popular role playing series which provides that clean slate for your adventure. This decision is vital in allowing hardcore followers of the other games in the franchise to recognise some of the story elements but doesn't close out ESO entirely to players that have never touched an Elder Scrolls game before. The world also attempts to offer a balanced experience for party goers or those that prefer to wander the lands solo seeking adventure ensuring both are greeted with an engaging Elder Scrolls themed story with unique side quests that feel similar to the core franchise.
Like these other Elder Scrolls games your adventure will take you across the continent assisting factions and inhabitants with various tasks while completing dungeons, participating in random events, monster hunts and general exploration of the diverse locations.
In doing so players will be able to develop their character from one of the ten playable races which is then further refined with the six game classes of necromancer, dragonknight, sorcerer, nightblade, warden and templar which fall into familiar archetypes with a touch of Elder Scrolls thrown in allowing access to attacks, spells and passives. While these skills are unique the formula to each class is the same with a focus on cycling between buffs, area of effect and damage of time spells before repeating the cycle again which leaves little reason to alternate between two classes.
Further character customisation is offered though through seven diverse crafting lines (jewellery, alchemy, blacksmithing, cloth, woodworking, enchanting and provisioning) that provide a sense of realistic economy and allowing for further deep systems for the dedicated gamer to explore and benefit from.
Summary:
Brings the Elder Scrolls into the online world with quests and locations that stay true to the franchise.
Choose from one of three factions ten playable races with their own designs and story.
Select your own crafting ability from seven deep options to contribute to the game economy.
Designed with both party and solo players in mind to ensure the world is open to all players.
Buy to play system with further options available with a premium subscription.
Links:
Videos:
Review Platform: PC