The Sims FreePlay puts the creative power of The Sims series into your hands with a trimmed down version for iOS and Android devices. If you're an avid fan of The Sims or just a fan of life simulation games in general then you'll no doubt love the experience on offer.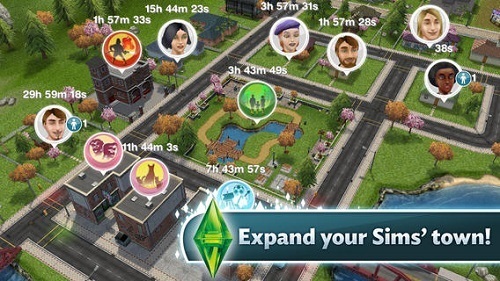 Customisation is at the heart of The Sims FreePlay very much like the main series of games from EA. You'll be thrown right into a quiet neighbourhood that you'll get to claim as your own as you fill it with all sorts of Sims.
Sim customisation is fairly in depth with options for gender, skin tone, facial features, clothing, name and personality. With over a dozen personalities available and a decent selection of visual options it is very easy to create Sims to fill up your game.
Personalities include rocker, villain, romantic, sporty, party animal, creative, bookworm and much more which will change the way your Sim acts and the bonuses that they receive in game. If you're struggling for ideas you'll also find a very handy randomise button to speed up the process.
Once you've settled on a Sim that reflects you (or an alter ego) you'll get to start taking control over the life of your Sim from managing their needs to customising your house and even making friends with a stray dog. While the early parts of the game are fairly scripted to serve as a tutorial you are quickly given plenty of freedom over the aspects of your Sims life.
Regardless of why you're a fan of The Sims you'll find that The Sims FreePlay has you covered with good Sim customisation options, plenty of potential to create your dream house and a huge number of side activities and objectives to keep you busy as you control the life of your little people.
Summary:
Brings The Sims to iOS and Android for free.
Create your own Sims from plenty of different options.
Build a dream house with the large collection of furniture available.
Control every aspect of your Sims life.
Large number of personalities that greatly alter gameplay.
Links:
Videos:
Review Platform: iOS